About us
Whippet has a long and rich history, having first started running buses in 1919. Mr & Mrs Henry Lee moved from London to Graveley, and having previously sold bicycles Mr Lee started his first bus service with a converted American ambulance with seating for 14. This first service ran from the village of Graveley into St Neots, and shortly after routes to St Ives and Cambridge were started.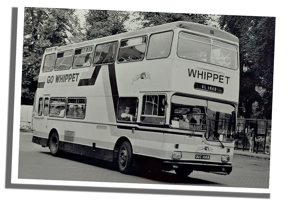 Having seen early success with local buses, a route to London was begun operating three times each week. By 1926, "The Whippet", had outgrown the original depot in Graveley and the business was moved to nearby Hilton. 
During the 1930s, when operators were first required to apply for licences in order to run buses, Whippet were running seven routes and continuing to grow. The expansion was halted during the second world war, however Whippet was involved in several services provided for RAF personnel based at local aerodromes.
In the 1950s, Whippet supported the local growth of businesses in Cambridgeshire including at the Pye wireless factory and Papworth Industries. Routes linking Huntingdonshire to the coast began in the late '50s and proved very popular - Whippet's buses were soon seen in Ramsgate, Bridlington and around the Norfolk coast. 
Cambridgeshire was growing fast, and the network of routes Whippet ran kept pace including local town routes in St Ives and buses to the new town of Bar Hill. By 1977, Whippet had grown too large for the depot in Hilton and a new site close to the village of Fenstanton was found. 
Further changes in regulation came in 1980 with the Transport Act, making it easier for operators to introduce new services - and several were started in time for Christmas shopping at Milton Keynes and Stevenage along with new seaside destinations.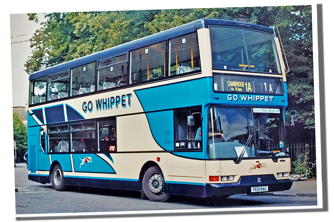 The "Go Whippet" name first appeared in 1983, and the network changed again in 1986 following the deregulation of local bus services. As other local bus companies were bought and sold, Whippet continued to adapt and remain competitive - serving the needs of local communities. For many years, Whippet had been running services on behalf of the local council to support it's commercial network. 
In 2009, Whippet moved to a modern workshop near Swavesey where we operate to this day. In 2014, the Lee family sold the business to Tower Transit and we're now part of the Ascendal Group. We operate full-electric buses on the Universal route for the University of Cambridge and most of the rest of our fleet meets the strict 'Euro VI' low emission standards. We also run national and international coach services for Flixbus. We're proud of our history, and to look forward to continuing to serve local communities.