Universal
Universal is the frequent bus link from Girton and Eddington in West Cambridge to the historic city centre, rail station and Biomedical Campus in the south. Our smart and comfortable, full-electric buses run up to every 15 mins all day connecting you with study, work or some of the city's many treasures.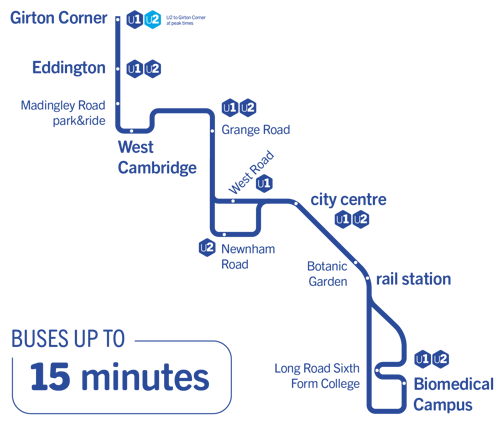 Click on the route diagram to download a detailed route map, showing each stop buses call at.
Universal buses run on renewable energy, helping to keep our city's air clean and have lots of features on board that you'll love. 
Air conditioning to keep you cool in summer and warm in winter
At seat USB charging (including USB C and wireless charging)
Reading lights on all seat backs
A low level floor, and space for someone travelling in a wheelchair or with pushchairs or shopping
Next stop announcements and digital screens 
Buses use the Cambridgeshire guided Busway to travel between the station and the Biomedical Campus - helping to keep journey times to a minimum. 


Our fares are great value too. If you're a student or member of staff at Cambridge University, show your ID pass to the driver and travel for just £1 per journey. You can buy bundles of 10 single journeys on our mobile app - register with your Cambridge University email address, and click ticket schemes in the app to find these tickets. 
Students and staff from any other educational establishment save, too - show your ID card to the driver and ask for a purple ticket. Just £1.70 per single, or £2.50 for an all-day ticket. 
And if you're not a student, Universal is for you too! Pay £2 per ride, or just £3.50 for an all day ticket.